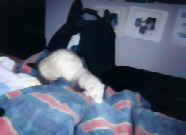 ---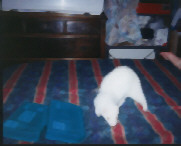 ---
Ferret and Other Links
The Ferret Store: Store, Chat Line, Ask the Vet, and so much more!
Link not working-Back Arrow with Browser PLS: Sorry this link under construction use back arrow on browser, please
More Cool Stuff: Poem, graphic, contact info and more
A Wiccan Way: Basic Wiccan Page, Redes, and Links
Song Lyrics: Song lyrics, graphic, links and more
Carrie From Mars's Ripper Page: I describe myself and some of my interests.

---
Ferret Love



Hello there Ferret lovers of the world!  This is just a short note to describe our family (fuzzies included, of course)





We live in a suburb of Montreal, Quebec, Canada.  We are a human family of three:  myself - Carrie, my husband - Bob, and my daughter - Kristy (aged 20).  We also have a black and white cat named "Du Maurier" and a dwarf rabbit named "Popper"





But, TA-DAH!!!, we also have six of the most beautiful fuzzies in the world!  But then, I am biased a bit.  Here follows a description of our babies and eventually we'll add photos.  For the present, ignore the Lion :-), it's filling space.





Our oldest ferret is a female named Shawnee.  She's 3 1/2 years old.  She's silver in color and delicate in build and nature.  Although, when really excited, she can "Weasel War Dance" with the best of them.  We bought Shawnee when she was 2. Her owner couldn't keep her anymore, so we adopted her.





Next comes Snowy a rescue. He's a black-eyed white ferret. About 3 years old and has mast cell tumours. Sadly, his previous owner pawned him off on an unsuspecting pet shop for resale, saying that he was 1 year old and healthy. We brought him home and he's doing well now. He's a beautiful and loving ferret.





Next in line is our 3 year old male, Slinky.  He's also sort of silver colored.  He's very intelligent and a great buddy.  He likes to climb really high, so we have to watch him carefully.  He's always asking for treats and stealing white socks, only worn ones of course.  He caches them under the bed, smack dab in the middle.





My baby is 2 1/2 year old Vixen.  She's a white-pawed, black-footed ferret (sable).  She's a midget ferret.  We don't know why!  She's so small and yet very excitable.  She doesn't like any other animal except for Slinky.





Then comes 7 month old Chewy. Who is growing towards the "World's Largest Ferret" title.  He's already as long as Slinky, and twice as wide!  He has the bone structure of an otter.  He also is the only one of our ferrets, who truly LOVES to swim!  He loves dunking his head in water.  I found this out quite by accident when he did so in the glass I was holding, and drinking! :-)





Last, but definately not least, comes our newest baby...Sweetie! She's about 6 months old and truly a bundle of energy and joy.  Also a rescue - don't ask me who could give up a sweet baby ferret only months after purchasing her, but it was our luck to have found her and she's now an intregal part of our family.





Anyways, that's about it for now.  More text and pictures to follow.



---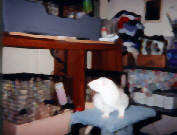 ---